We are happy to announce the release of Rapid Personnel Manager version 15.2! This is a minor release which improves existing functionality and performance, along with any fixes needed. The feature in the spotlight is the GDPR export feature. Read on for details.
New features since version 15.0:
Thank you for your interest in knowing more about this release. We spend a considerable time to specify what is new to show you that we are working hard everyday to improve RPM for each new version.
So, what's new?
Now you can download all of a person's information that is stored in RPM. We have modeled the function to help you easily comply with the requirements of a GDPR records request without manual steps. You can download it in the same place where you find the person's CV.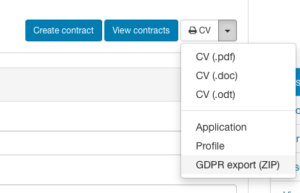 We did some improvements to search a course in the "quick search" field.
Bug fixes on:

Person's work list, courses and contracts
Alerts response page
Tag assignment conflicts
Contract printing
Handling of associated records when a user is deleted
Crash in the profile page in some specific situations
Wrong header in "admission course" and "membership" email body

A total of almost 20 issues were solved in this release!
More is coming in the next release! Don't miss it!